providing for the intellectual, creative, physical, social and emotional growth of the student
ULS ELEMENTARY PROGRAM
We believe that children learn best when given the opportunity to engage in meaningful learning experiences.  

Our approach focuses on inquiry, modeling, guided practice and direct teaching, where learning is connected and developed over time.  

Our intent is to ignite in each student to desire to become a life-long learner who is capable of making significant contributions to society while achieving personal satisfaction in life.

Our program is rigorous and comprehensive, where most classes are taught by the classroom teacher with the entire 2-grade level cohort together as a cohesive unit.  

The elementary classrooms are adjacent each other, share a common lanai and garden for work and play, and often collaborate across grade levels on innovative projects.
Best Practices in Instruction & Assessment
Classroom instruction is student-centered, allowing students to take an active role in being responsible for their own learning. In this setting, the teacher is more a facilitator and guide who encouraged collaboration and cooperation between learners. Student work alone and with partners and groups, they have direct experiences with various mediums in a variety of related hands-on-activities and by using an array of texts and/or media appropriate to the study. Teachers use thoughtful assessment practices to stretch student learning and maximize the outcome and success of each student. Cyclical formative and cumulative assessments inform teacher's decisions on how to best promote individualized learning.
Curriculum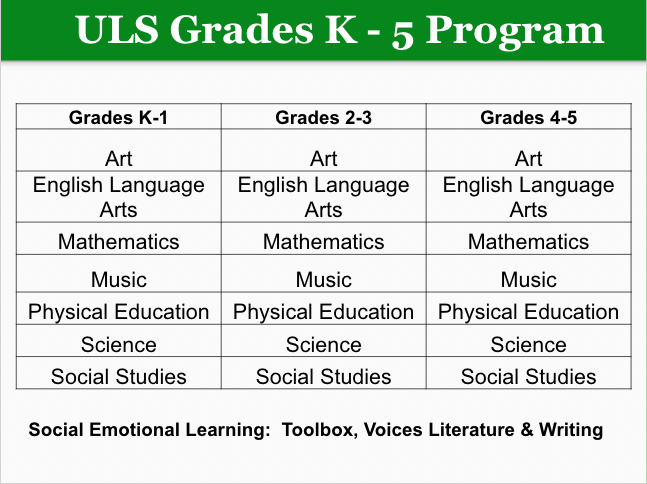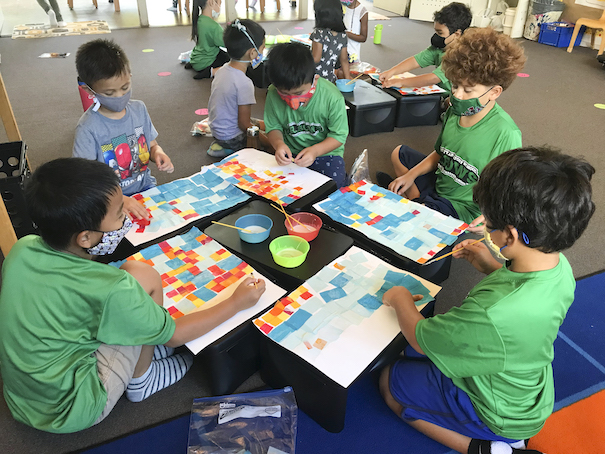 ULS Music Program
Philosophy - What We Believe
The experience of music in myriad forms is ubiquitous in every culture throughout the world and is a fundamental means of human expression.
Music has a powerful ability to evoke some of the deepest and most positive and healing qualities of human beings such as compassion, tenderness, strength, nobility, upliftedness, gratitude and joy.
Teaching music can help bring out the very best qualities in our students by exposing them to the fundamental skills, attitudes and disciplines of a musical life.
Students are best exposed to the musical life by engaging in performance practice.
Our Mission and Goal
To cultivate in each student an abiding curiosity about music as well as a life-long love of learning and appreciation of music.
To support, encourage and enjoy the student's innate curiosity and tendencies toward musical expression.
To foster and develop the student's confidence in their musical abilities and talents.
To cultivate an environment in which the students can gain the short term and long term benefits that naturally arise through the on-going practice and discipline of a musical life.
To foster and promote the positive qualities noted and thereby help make our world a more peaceful, kind, just and beautiful place.