ACADEMIC PROGRAMS
All students receive a comprehensive academic program, enrolling each year in English, social studies, science, mathematics, art, and instrumental or vocal music, plus physical education, and (in grades 10-12) a second language, thus providing all students with a strong academic foundation. These features mark the school's academic program:
The school has a sequenced and articulated curriculum, which exceeds the Hawaiʻi Content and Performance Standards requirements.
The school communicates to students and their families high expectations for all, and every effort is made to achieve this goal for every student.
All students have an equal opportunity to experience the school's program and achieve the school's educational objectives.
The school does not track students into different programs. All classes are heterogeneous.
The school's instructional methods stress direct experience, hands-on activity, inquiry and experimentation, simulations, role-playing, and cooperative learning.
The school's program opens doors for post-high-school opportunities. It prepares all students for admission to higher education so that they have choices for their futures.
STRATEGIES FOR ACADEMIC LEARNING
An individual learns essential knowledge best when it is presented in a consistent, logical, developmental pattern over a long span of time. Short, modular bits of knowledge do not fit into patterns or reinforce each other, hence are quickly forgotten. The learning process for each person (including the skills, concepts, and processes that make up knowledge) must be consistent and developmental from lesson to lesson, from unit to unit, from semester to semester, from teacher to teacher, and through all the years of schooling. For example, instruction in composition includes daily practice over the years of schooling. Each lesson on writing integrates knowledge and skills taught earlier with new, advanced, and more complex features, so that review and integration of old with the new is continuous.
This strategy consists of two interrelated parts. Students must be working throughout their educational careers in a selected number of essential fields of knowledge: the sciences-both natural and social; the humanities-art, music, literature, and drama; and technology-the study of human processes and institutions. This study must be augmented with sports, activity in organizations, and other extracurricular activities to build a balanced top-quality program.
There is a place for telling, lecturing, and assigning and monitoring class work and homework. But most instructional activity consists of inquiring, questioning, probing, hypothesizing, thinking critically, and engaging in other intellectual endeavors. Students of all age levels and ability are steadily immersed in interesting and challenging tasks, problems, and well-written, significant pieces of literature. It is best if students see more sophisticated practitioners, both teachers and more advanced students, working at the task and exemplifying or modeling the integrated, humane aspects of all intellectual and practical work. A curriculum that continually integrates part to whole, earlier to later, simpler to more complex, and theoretical to applied is most likely to relate to differences in students' rates and styles of learning.
Students learn through a variety of experiences. Regular classroom activities, of course, are the important staple in the school. But other avenues for learning are valuable in their own right and help set the stage for more normal school learning. The school offers a rich program of student activities such as sports, drama, music, speech, clubs and field trips.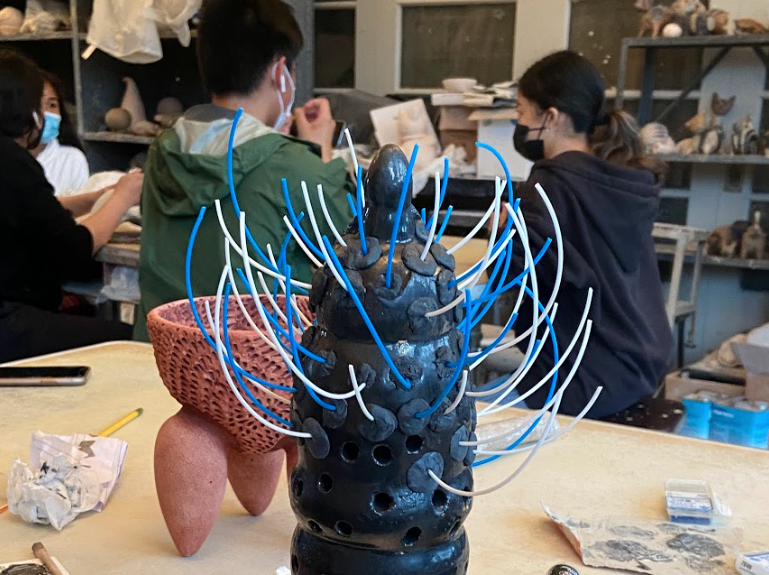 VISUAL ARTS
Our students are actively engaged in a studio environment to produce works of art in drawing, painting, sculpture, ceramics and fiber arts.